Plastic Diffuser Solutions
for LED Lighting
White paper on a new generation of polycarbonate and acrylic LED light diffusing materials that offer design flexibility, hide hot spots, and transmit more light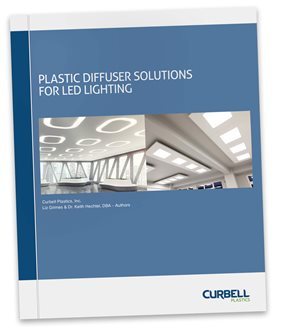 This paper provides a comprehensive look at some of the top materials currently available to solve your LED lighting challenges including an explanation of how they work, material comparisons, plus property charts and photographs.
Highlights:
How the materials diffuse light and hide "hot spots"
Polycarbonate vs. acrylic – advantages and limitations
Properties: material strength, flammability, light transmission, light diffusion, and temperature capabilities
Visual comparisons - light diffusion, light transmission, and color
Material options for architectural, commercial, and transportation light fixtures, backlighted signs, lighted point-of-purchase displays, and troffer retrofitting
Want to know more? Simply fill out the form and get your free copy of:
"Plastic Diffuser Solutions for LED Lighting"
24 Pages of: Light Diffusing (LD) Materials • Diffuse LED "Hot Spots" • Polycarbonate vs. Acrylic for Lighting Applications • Light Transmission • Material Comparison Charts & Photos • Backlighting • Troffer Retrofitting
---
Curbell Plastics is a nationwide supplier of plastic light diffuser sheet materials. Brands include: TUFFAK® (formerly called Makrolon®), Makrofol®, OPTIX®, KSH®, and Plexiglas®.