KYDEX® Thermoplastics Create Durable, Attractive Store Fixtures
Material Guide Highlights Benefits of Replacing High Pressure Laminates with Chip and Crack Resistant KYDEX® Sheet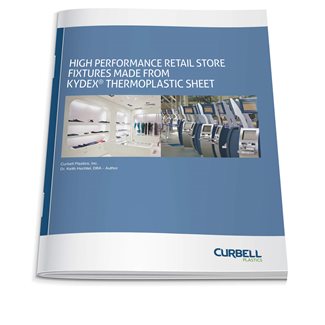 High pressure laminates (HPLs) are limited in a number of ways including having poor aesthetics and being difficult to fabricate. They are also prone to damage (chipping and cracking) when used in high traffic retail environments.
Benefits of KYDEX® Thermoplastic Sheet:
Modern, eye-catching appearance
Standard and custom colors, pastels, metallics
woodgrain, and more available
Durable and tough, resistant to chipping
Excellent thermoforming properties
Easy to fabricate and machine
High chemical resistance
Bonds well with proper adhesives
Fire resistant

Want to know more? Simply fill out the form and get your free copy of:
"High Performance Retail Store Fixtures Made from KYDEX® Thermoplastic Sheet"
KYDEX® Sheet vs HPLs • Property Charts & Performance • Application Photos • Fabrication Tips & More
---
Curbell Plastics is a nationwide supplier of KYDEX® Thermoplastic sheet for industries including retail, medical devices, aviation, and mass transit interiors.